The most dramatic train ride in the western hemisphere
Thats how El Chepe has been called by Readers Digest, it might just be true, Riding across 39 bridges and through 87 tunnels its really a technological marvel, couple that with Albert Owen story and you are in for a nice tale.
The concept of the railroad was officially recognized in 1880, when the president of Mexico, General Manuel González, granted a rail concession to Albert Kinsey Owen of the Utopia Socialist Colony of New Harmony, Indiana, USA, who was seeking to develop a socialist colony. Financial difficulties due to the cost of building a railroad through rugged terrain delayed the project, and the ChP was completed in 1961.
In 1998, the private rail franchise Ferromex took over the railroad from the Mexican government, which had operated all railroads since 1940.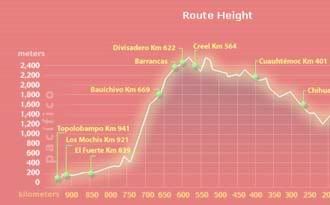 Check the Wiki
Or @
mexicoscoppercanyon.com
Or @
Trainweb.org
Saludos
Etiquetas: Chepe