Across a big river and up a big mountain; The tale of La Ruta de la Independencia
Some time ago we setup for our annual trip up the Tarahumaran sierras in the Copper Canyon area, but this time somebody decided to do an open invitation to the nearby 4x4 clubs, little did we knew that we`ll end with a nice and long line of more than 60 cars....
Our trip consisted this year of a long drive starting in Navojoa then to Alamos, across the Chinipas river, up to Temoris, cross the nice towns of Cuiteco and Divisadero, Then Creel, across the sierra to the nice Basaseachi Falls, back to Yecora and from there by road to our hometowns, all and all almost a thousand miles of mostly rugged roads and nice postcard worthy vistas.
The get together at Navojoa, after a nice Cochito a la cubana (Cuban style Pork barbecue) and plenty of beer. As a good Mexican i am a sucker for stickers ... :-)
At 6.30 am we headed out of town, on our way to Alamos, Sonora. We divided the big group in 4 groups or so, and off we went.
Alamos, a good old fashion colonial town (With some good restaurants), I am partial to El Fuerte, Sinaloa. But still like Alamos a lot .
Up the sierras on our way to destiny (The Chinipas River crossing)
After several hours, getting closer to the Chinipas River, down below.
With the help of our river guide we mostly make it across (For the record, out of almost 60 cars, only 5 had trouble, and of those, 4 where brand new JKs), so much for new tech.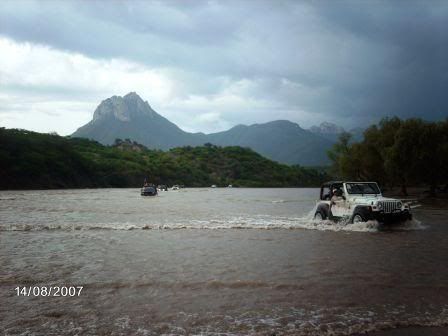 This its what a heroe looks like deep in the Sierra, our trusty river guide (He made a killing that day, $5 per car )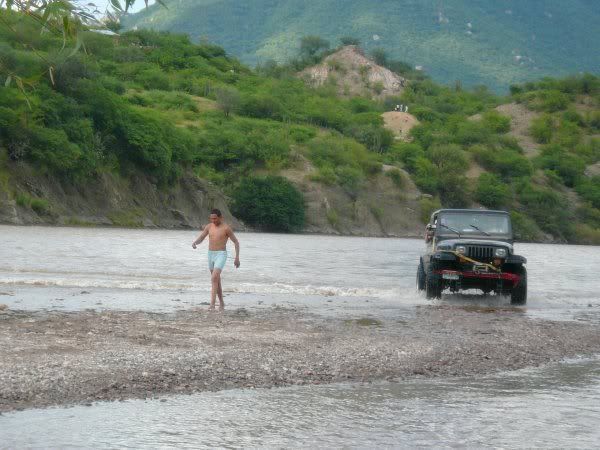 Next, the big dark road ahead ...
Etiquetas: Ruta de la Independencia