Choosing you route, Route C, Going from Obregon To Yecora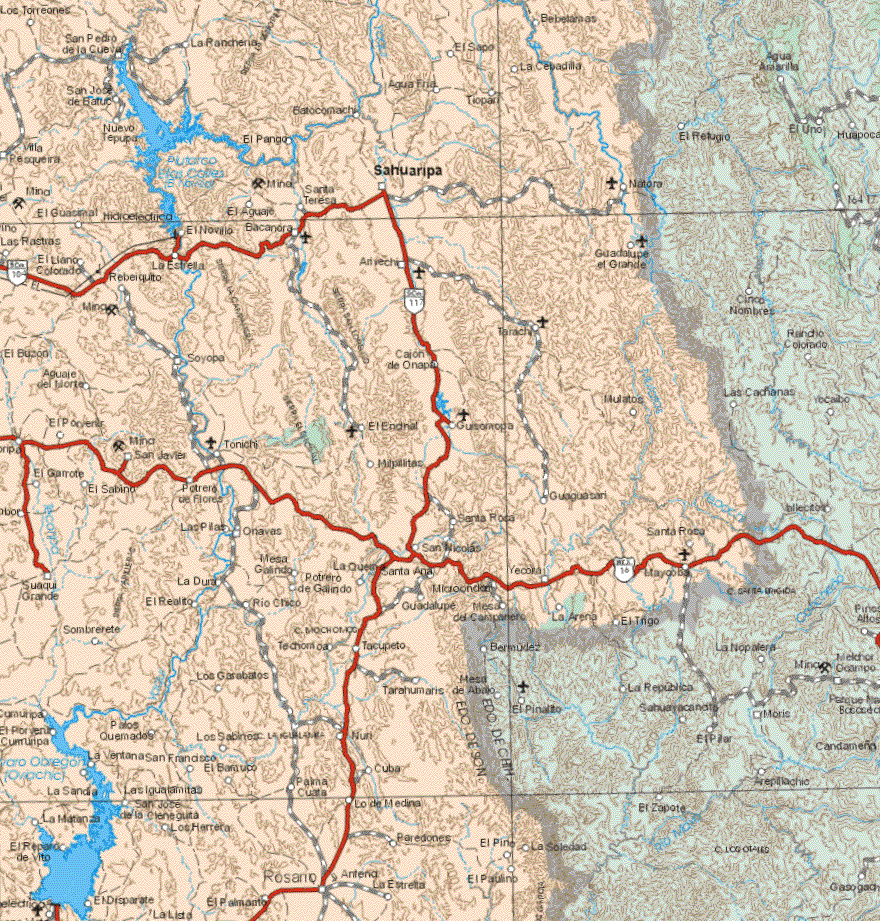 Of the 3 main routes that you can use (Coming from the Pacific coast) this is the only one that is viable for explorers with heavy RVs and/or 2WD. There is also a hard subroute for those seeking an unforgettable experience (And with rigs to match).
The paved route starts in Esperanza, Sonora, About 8 miles north of Cd. Obregon, Sonora.
From Esperanza you start driving on State Road 112 to Rosario de Tesopaco, after 1.5 hours you will get there, its a good place to fill up, (And ask where you can get Bacanora, a mean but very good local tequila), as you continue up the mountains in 1 short hour you will reach a junction for the main road from Hermosillo to Yecora (Road Mex 16), you turn right to Yecora and 45 minutes later you will reach a nice port called Mesa del Campanero, it has a nice small restaurant with some good Machaca (Dryed Beef). From there its a short drive to the valley of Yecora down below.
The roads are usually bad after the rains in September and beyond Rosario de Tesopaco are tipical twisty sierra roads, on winter, sometimes there is ice on the roads and no one to tell you about it, so be careful.
In Yecora you can find several small basic hotels and some Cabañas for larger groups, just ask at the Pemex station at the entrance of town, in later years it has become somewhat of a ´hot town´ but as long as you dont wander alone at night should be ok.